ASUS VivoMouse Metallic Edition WT720, A 3-in-1 PC Controller – A Mouse, Touchpad and Wireless Remote
Asus 90MP0021-M0EAY0 ASUS VivoMouse Metallic Edition WT720, A 3-in-1 PC Controller – A Mouse, Touchpad and Wireless Remote
ASUS VivoMouse Metallic Edition WT720, A 3-in-1 PC Controller – A Mouse, Touchpad and Wireless Remote
Incredible Versatility
Use it any way you want
VivoMouse is an innovative device that integrates all the functionalities of a touchpad, wireless remote and optical mouse. Designed with the user in mind, it offers intuitive cursor control whether you're using it as a mouse, a table-top touchpad or a wireless remote.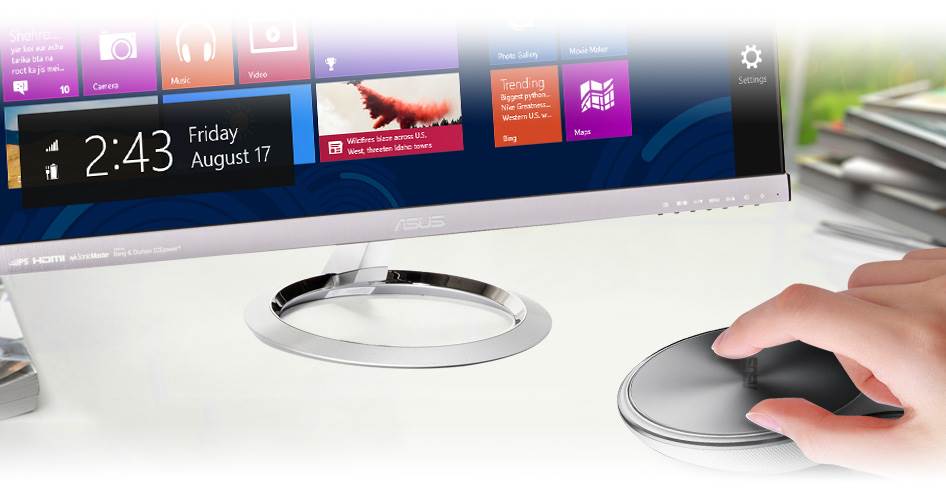 Full Windows 8 Gestures Support
Adds intuitive touch input to non-touch PCs
The large circular touchpad found on the VivoMouse provides full Windows 8 multi-touch gesture support. This gives you cursor control with just one finger, as well as giving you the full Windows 8 touch experience even when you're using a non-touch enabled device.

Intuitive Touchpad
Optimizing work and play
VivoMouse recognizes touchpad gestures such as page up/down swipe, pinch-zoom in and out, and other multi-finger inputs to improve on your computing experience. Whether you're using Windows 8 or Windows 7, you'll find an intuitive input experience. With the VivoMouse, you can also switch between mouse or touchpad modes on-the-fly.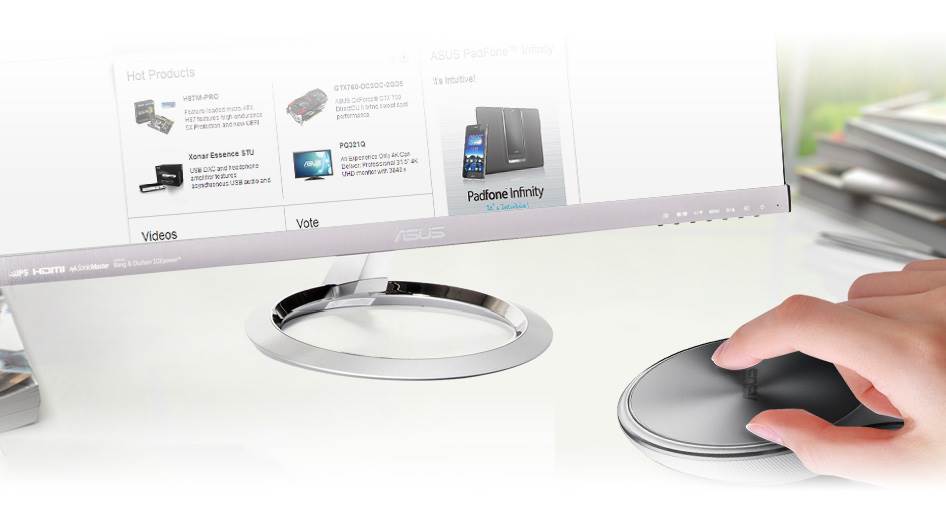 Control Your PC Remotely
Use it as a handheld touchpad with your fingers
The VivoMouse design is optimized to give you one-handed control over the cursor with just your fingers. It is the perfect peripheral for a home theater PC, allowing you to easily navigate your music or video library while away from the computer. Whether you're at home or in the office, you're always in control.

Optical Mouse
Accurate control
VivoMouse works as a standard optical mouse, with the touchpad working as both the left and right click buttons. With 1200 DPI and a 2.4GHz RF link to your PC, VivoMouse provides accurate input each and every time.

Battery Flexibility
VivoMouse works with either single or dual AA batteries; one battery lightens the load for better portability, while two batteries allows for longer use.

Premium Design
Aluminum crafted with a concentric circle touchpad
VivoMouse Metallic Edition WT720 brings the same 3-in-1 touch experience to you in a premium platinum white design. WT720 gives you the versatility of VivoMouse with a cool, metallic feel.

Gestures Guide
Feature list
| | |
| --- | --- |
| Device interface: | RF WirelessUSB |
| Movement detection technology: | Optical |
| Recommended usage: | PC/notebook |
| Scroll: | N |
| Movement resolution: | 1200 DPI |
| Scroll type: | Touch |
| Buttons type: | Touch |
| Colour of product: | Platinum, Silver |
| Form factor: | Ambidextrous |
| Battery technology: | Alkaline |
| Battery type: | AA |
| Windows operating systems supported: | Windows 7 Home Basic, Windows 7 Home Basic x64, Windows 7 Home Premium, Windows 7 Home Premium x64, Windows 7 Professional, Windows 7 Professional x64, Windows 7 Starter, Windows 7 Starter x64, Windows 7 Ultimate, Windows 7 Ultimate x64, Windows 8, Windows 8.1 |
| Width: | 135 mm |
| Depth: | 75 mm |
| Height: | 26 mm |
| Mouse weight: | 115 g |
| Receiver width: | 19 mm |
| Receiver depth: | 14 mm |
| Receiver height: | 6 mm |
ASUS VivoMouse Metallic Edition WT720, A 3-in-1 PC Controller – A Mouse, Touchpad and Wireless Remote